Coronavirus Georgia
ATLANTA, Ga.  The Georgia Department of Public Health confirmed Tuesday that approximately 200 people in Georgia are self-monitoring for symptoms of the new coronavirus, COVID-19.
These individuals recently returned from China and are self-monitoring for symptoms of the virus from home.
Coronavirus Georgia
Coronavirus Georgia
DPH epidemiologists contacted the individuals by phone to establish a plan for self-monitoring and gave them instructions on how to contact the agency before they seek health care if they develop fever, cough or shortness of breath.
President Trump issued a federal proclamation in January that included a travel ban for non-U.S. citizens entering the country from China and funneling flights from China to one of 11 airports in the U.S., including Atlanta Hartsfield Jackson International Airport.
In addition, the proclamation requires mandatory 14-day quarantine for returning travelers who have been in the Hubei Province and 14 days of supervised self-monitoring for returning travelers from anywhere else in China.
Georgia health officials announced on Tuesday that roughly 200 residents were self-monitoring for the coronavirus after recently returning from China.
None of the residents have shown symptoms of the virus or visited Hubei province — the epicenter of the outbreak.
Health officials reportedly didn't use the word quarantine, instead, phrasing it that people are being isolated in their homes for 14 days, which is considered the virus's incubation period, according to the Atlanta Journal-Constitution. A new paper by Chinese scientists says the period could be as long as 24 days.
Officials have reportedly been calling each traveler, letting them know of the potential symptoms of the virus and the importance of staying at home during the timeframe. Residents under quarantine were given an online tool that notifies them when their isolation time is up, according to the AJC.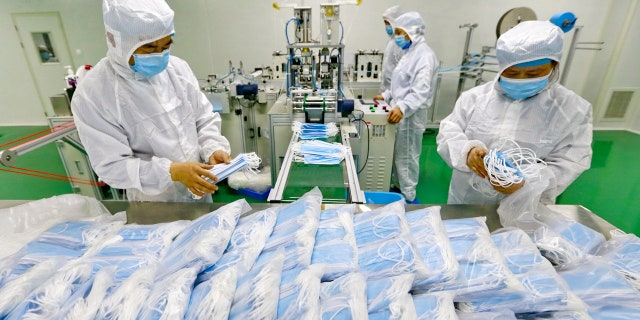 There are no reported coronavirus infections in Georgia as of Wednesday and commercial flights have been suspended between Atlanta and China.
Local experts say Georgia's processes to handle emerging diseases are better than ever, the paper reported.
There are 13 confirmed cases of the coronavirus in six states throughout the U.S.
About 393 people in 24 countries around the globe have been infected with the virus since it was first reported back in December and 99 percent of cases still remain in China. China reported 97 more deaths on Wednesday, increasing the total to 1,113 in mainland China as the country remains closed off from the rest of the world and some 60 million people remain under virtual quarantine.
JAPAN CONFIRMS 39 NEW CORONAVIRUS CASES ON CRUISE SHIP
The new infection cases declined for a second straight day with 2,015 reported in the last 24 hours.
The United States Postal Service (USPS) said on Tuesday it was "experiencing significant difficulties" on sending letters and express mail to China after airlines suspended flights to the country. They said they can no longer accept items to China "until sufficient transport capacity becomes available."
The World Health Organization (WHO) has officially named the disease caused by the virus as COVID-19 to show the disease comes from a new coronavirus discovered in 2019 and to avoid geographic or animal designation.
https://www.cbs46.com/news/people-in-georgia-self-monitoring-for-coronavirus/article_60b3f720-4d1d-11ea-bb9d-6ff09a1a9d16.html
Coronavirus Outbreak Map
Coronavirus Outbreak Map . Com
COVID 19 Vaccine AT CVS
Coronavirus Outbreak Map . Com
locations where you can
Get  COVID 19 Vaccine